Sony Ericsson Mobilephones
This page is dedicated to Sony Ericsson mobilphones and the huge pile of things you can do when you're owning one of these great phones.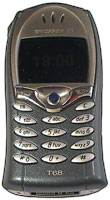 Ericsson T68m
This was my first phone and I bought it in a local mobilephone store, "Spaceworld", on the 24th december 2002 (yes, Christmasday). Since I knew a couple of guys working there I got a nice discount and I got the phone for 4700 NOK ($670 USD) including taxes. In addition was the phone was locked to Telenor and it's funny now to see how much the market has changed since then. Nowadays almost all phones can be subsidiced for a fraction of the retail price. But the downside with subsidiced phones are usually that you get a customized firmware, or software, with brand logos and bound services to the provider. Mine was not altered in either way, just locked.
Specifications
First Ericsson phone with 256 color screen
Bluetooth, Infrared and GPRS
1 MByte storage memory
Multiband - GMS 900/1800/1900 MHz
My Functionalities
Short list of a few areas where I use the phone other than sending sms messages and talking:
Use bluetooth to get a mobile Internet connection for my iBook

Surf the web
Download maps for my GPS unit
IRC messaging

Create PHP WAP pages that strip down regular websites to get the essential content

FEDEX package tracking
Posten AS package tracking
Quakenet Trust Request queue
Soon: Downsampled webcam pictures

Use bluetooth to bluejack people

Send unsolicited contact vcards to phones in range (i.e Sony Ericsson ownz)
Guides
LCD screen replacement
It was bound to happen sooner or later; one day I managed to through my phone down the stairway, it just slipped my hand when I opened a door on top of the stairs. This resulted in a broken lcd screen with 2-3 major cracks rendering the upper-right part of the screen useless.
After searching for a replacement screen on Ebay I found a nice Canadian mobilephone shop called Cellex. They sold the screen for $16.99 USD and just $5.50 USD for shipping costs. Can recall what the delivery time was but it usually takes around a week or more for something delivered from America.
Replacing the screen itself was'nt really that hard as long as you take great care and use the right tools. A fast rundown; flip off the front faceplate with a small screwdriver, use a small torx screwdriver to remove the 6-8 screws, lift the damaged screen from it's socket gently and plug in the new one.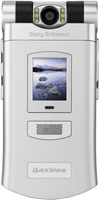 Sony Ericsson V/Z800
Researched only
This phone will be my next gadget, it has everything I've been missing from all the other phones. The major features I want are UMTS/3G support, Memory Stick DUO Pro and 1 Megapixel camera.
References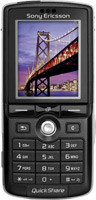 Sony Ericsson K750i
After the disappointment with Z800 (mainly the camera), I wanted to hold off for the latest phone in the P-series, codename Hermione. But after some sources relieved that it won't hit the market untill early 2006, I decided to get the K750 instead. It's pretty close to my ideal phone; a great 2 MP Camera, Memory Stick PRO Duo slot, radio and media player, and a nice responsive interface. Only thing missing is a fast data carrier for my iBook, either EDGE or 3G would be sufficient. WLAN would also be cool too. I bought it 2. August 2005.
I had the K750 for about 4 months and then it started having problems, more spesific just shut itself off by pressing slightly on the each side in the middle of the phone. After 3 repairs, I got a brand new phone and decided to sell it as new and I got what it was worth (2500 NOK, 15% lower than street price). I sold it on qxl.no the 25. January 2006 (8 months after it was released). The phone really didn't make a good impression on me and I was constantly reminded how good the T68 really is and how far ahead of time it was when it was released. The K750 it didn't really appeal to me, maybe because of the slightly lower build quality compared to the T68 or the bad experiences I've had with it (Repair and the Sandisk 1 GB Memory Stick that went bad on me).
Pages
References
Sony Ericsson P990i
The new SE P990 got it all, WLAN, 3G, 2MP Camera, Radio, Music and Movie player, touchscreen, and loads of other goodies. Just what the K750 lacked. It was scheduled to be released to market late Q1 2006, but did eventually get delayed another quarter and started to pop up in stores in Norway the 10th August. I ordered the phone the second I saw that it was in stock.
Specifications
Philips Nexperia PNX4008 208 MHz processor
Symbian 9.1 with UIQ3 operating system
128 MB on-board flash memory, 60 MB user free, Memorystick Pro Duo
64 MB memory
GSM, GPRS, 3G, Bluetooth, WLAN and Infrared
Touch screen, QWERTY keyboard, keypad, virtual keyboard and handwriting recognition
Autofocus 2 Megapixel camera
Tri-band - GSM 900/1800/1900 MHz + WCDMA 2100 MHz
240x320 pixel QVGA TFT screen, 262 144 colors
Areas I couldn't explore earlier, but can with P990 includes...
Fast semi-broadband speed mobile Internet access for my iBook/MacBook Pro (soon), and share using wireless adapter
Use WLANs when in range to browse the web using the built-in fullscreen Opera browser
Connect to my self-signed cacert.org ssl IMAP server and utilize IMAP IDLE push e-mail functionality
Wardriving for discovering and logging WLANs, and maybe later on plot location using GPS adapter
Listen to BBC Radio1 RealAudio streams whenever I want, using GPRS, 3G or WLAN
Setup RealMedia video and audio stream server for monitoring via 3G
Good low-res QCIF, 176x144, 30fps or QVGA 320x240 15 fps camcorder
Bluetooth GPS adapter for directions using Symbian mapping software, download pre-loaded maps or Google Maps
Use full advantage of QWERTY keyboard and touchscreen
Take snapshots with a flip of a button, post to online gallery or blog, for projects
Use A2DP bluetooth support to connect UE-10Pro in-earphones wirelessly using modified adapter
Device design:
Aesthetic looks better than the earlier P9x0 series, more like a normal phone
Maybe a bit thick and heavy
Pre-conserns:
No time or date on screensaver
New security policy, all software has to be signed
No EDGE, fallback from 3G to GPRS only
Probably buggy Symbian-system when released, firmware upgrades expected
No 3.5mm audio jack, have to bring Fast port-adapter
Maybe hard to handle without flip mounted, no yes/no buttons, only touch screen and small keyboard
Only 15 fps in with best camcorder resolution (320x240 pixels)
Low free memory after startup, around 15 MB free of 65 MB total
Sloppy UI, inconsistent screen rendering, not instantly
Lower standard battery capacity, 950 mAh instead of 1120 mAh
Applications I would like and use:
GPS-mapping via bluetooth adapter - Found nav4all (also Wisepilot, Wayfinder, Route66, TomTom)
Voice-over-ip, preferable Skype
Capture screenshots - Found Capturescreen
Proper VPN client - VPNManager included on memory stick
Remote control of the P990 camera, preferable web-based
Process information - Found ProcInfo
P990 Software versions:
Earliest retail manufacturer date spotted is 06W25 (mikaljan, esato) and 06W26 (mobilmania.cz).


CommunicAsia prototype device (2006-06-20) by adnhk:
Phone: R2A01
Bluetooth: R4F01
Organizer: R1A99
CDA: R1A58


My-symbian retail device #1 (2006-07-26) by Michal Jerz:
Phone: R4A002
Bluetooth: R4F01
Organizer: R2A01
CDA: R2A01 162007/1


My-symbian retail device #2 (2006-07-28) by Michal Jerz:
Phone: R4B001
Bluetooth: R4F01
Organizer: R2A04
CDA: R2A01


My-symbian forum retail device (2006-08-01) by Tony71:
Phone: R4B001
Bluetooth: R4F01
Organizer: R2A04
CDA: R2A01


Firmware update, Esato (2006-08-18) by pemoz:
Phone: R5A006
Bluetooth: R4F01
Organizer: R3A04
CDA: R3A03


Model numbers:
DPY1011472/28 FI SV
DPY1011472/29 ?? NO??
DPY1011472/35 RU
Tips and tricks:
Disable handwriting recogniztion for snappier interface
Select 'Large cache' in Opera
To enable flash light in video capturing mode, enable light in picture mode, hold shutterbutton halfway, turn jog-dial to video mode
Enable USB file transfer in 'Connections' to allow fast file copy over USB cable
Set Opera zoom to 80% for overview and clear text
If software update fails, try deleting blob_fs folder and install latest Java client, update will erase everything on the phone memory
Set camera picture quality to 'Fine'
Mute camera shutter sound
Limit backlight brightness to 25-80%
Disable wlan and 3G network support when not needed in 'Mobile networks' and 'WLAN' menus respectively
Calibrate the touch screen using the 'Setup wizard'
Turn off GPRS to disable continous GPRS signal search, will still work and turn on when needed (i.e MMS), found in 'Internet Accounts', 'More', 'Options' and 'CS Only'
To enter service menu, flip closed: jog-dial up, *, down, down, *, down, * - flip open/removed: in phone application, jog-dial up, touch *, down, down, *, down, *
Apply a thin layer of cycle oil around the battery cover to remove any squirky noises and to make removal somewhat easier
Sony Ericsson P1i
Direct link to the Sony Ericsson P1i entry on my Wiki.
Guides
References
Forums: hofo, mr, my-symbian, esato, se-nse, ucse.com, gsmarena, mobileburn

Useful guides:
Generic pages
References
Community sites
Team sites
Applications